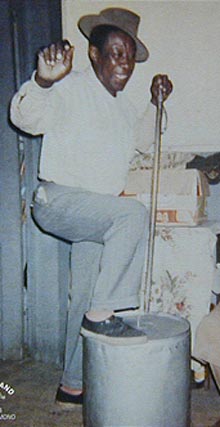 Will Shade Tribute
January 27, 2008 • Chicago, Illinois
May 3, 2008 • Memphis, Tennessee
Aug 1, 2009 • Memphis, Tennessee
Tell us what you think
If you appreciate Will Shade's music, or know a story about his life, please .
Arlo Leach
July 26, 2007
Ralph Peer (Jimmie Rodgers, Carter Family) was the producer for the early Memphis Jug Band recordings, and he sometimes listed Will Shade as co-producer in the studio logs. I have to think that was pretty unusual for a black musician in the 1920's, but Will Shade clearly earned the respect of both his black and white colleagues. (Source: http://www.mustrad.org.uk/reviews/memphis.htm)

Jacob Fishman
July 26, 2007
This is a terrific celebration for the recognition of our musical roots.

Andy Carlson
July 30, 2007
Nice site, and great idea! This video of Will Shade playing bass was floating around on a jugband email list.
http://www.youtube.com/watch?v=QBXNh1Y03hM
It's pretty great!

Charley Lee (New Hokum Boys)
September 7, 2007
Great work, Arlo. Good luck with the effort.

Todd Kwait
September 17, 2007
I adore Will Shade. He was a true professional. His records are timeless. It is time that he is properly ackowledged. My thanks to Arlo Leach for all his work!

Bill Boslaugh
November 26, 2007
Will Shade has been an inspiration to Oregon's Federal Cigar Jug Band since 1967 and we're pleased to be able to contribute to this tribute.