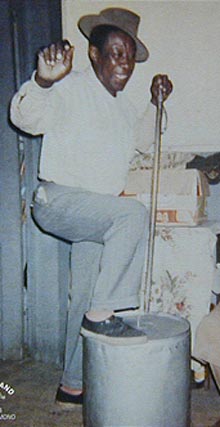 Will Shade Tribute
January 27, 2008 • Chicago, Illinois
May 3, 2008 • Memphis, Tennessee
Aug 1, 2009 • Memphis, Tennessee
The following is an overview of Will Shade's career, presented by Dr. David Evans, Professor of Musicology at the University of Memphis, at the gravestone dedication ceremony on May 3, 2008.
I didn't know Will Shade, so I don't know if I can say all that much. What I know about him is probably what many of you already know. I know you're all jug band musicians and fans, but Will Shade was really one of the keystones of Memphis music, and of course of jug band music, I think we could say of American music, and he has the distinction of leading and organizing the first group of musicians to record, commercially at least, in the city of Memphis. If you think of all the great recordings that have been made over the years in Memphis, all the stars that have emerged from this city, Elvis Presley, B.B. King, and the list just goes on and on and on, to think that it all started with Will Shade and the Memphis Jug Band back in February of 1927, for Victor records. I wish the place that they recorded, the Memphis City Auditorium, which was brand new back then, was still standing, but they tore it down a few years ago and then built it back up as the convention center, but that's the way we do things here, we forget so quickly.
But Will Shade, as many of you know, and the Memphis Jug Band, had quite a career. From 1927 until 1930 they recorded quite regularly, sometimes twice a year, for Victor Records, and then the depression hit and things got a little slow, but he still managed to stay in the recording business for a few years working for other companies, for Gennett Records in 1932 under another name with the jug band, and then in 1934 for OKeh Records going to New York. For Gennett they went up to Richmond, Indiana. And then that was it for many years, but Will Shade didn't give up on music or jug band. He remained one of the key players in the Beale Street music scene, the Memphis music scene, organizing groups with some of the original members. Of course, when we say "original" that was a pretty loose-knit group. The personnel varied on all of their recording sessions and I'm sure even more on their live appearances. But they played for, and their music was enjoyed by, young and old, white and black, rich and poor, all over Memphis and the mid-South, private parties, strolling through neighborhoods, excursion boats and trains. They played for the movers and shakers of Memphis as well as the people that were moved and shaken.
So, during the rest of the 1930's and on into the 1940's, as music changed, as guitars got plugged in, and bands got loud enough to drown out the Memphis Jug Band, he still kept at it, playing many of the same venues. Many of the old fans still stuck with jug band music, and then in the 1950's, they were rediscovered by researchers and visiting folklorists. Samuel Charters recorded them, Alan Lomax did, George Mitchell, and several others recorded them, right up until Will Shade's death in 1966. Despite these latter-day recordings, he really didn't get a great deal of recognition. He did manage to get on a Gus Cannon album, but he stayed in Memphis, and the newly emerging world of the blues revival had to come to him, and occasionally it did. But at the time of his passing, he was largely forgotten, by the music world, and probably many of the people that had heard his music in better years, and we see the result. He's buried in this lonely place here, now being encroached on by suburbia, but you can imagine what this was like in 1966. Most of the people that were buried here, as you see, you don't see too many other markers, I wonder if there are any in this place, but most of the people probably didn't even have funerals, and I guess this gathering is probably the closest thing to a funeral that Will Shade would have had. And I guess on these occasions, it's traditional to raise a spiritual song, so I think it's appropriate, and I'm going to ask Joe Filisko if he would start off a song, "I'm Gonna Cross the River of Jordan."