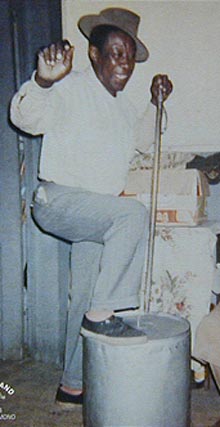 Will Shade Tribute
January 27, 2008 • Chicago, Illinois
May 3, 2008 • Memphis, Tennessee
Aug 1, 2009 • Memphis, Tennessee
A blues legend
Harmonica player and guitarist Will Shade founded the Memphis Jug Band in 1927. Although he usually worked behind the scenes -- collaborating with musicians like Memphis Minnie and Furry Lewis, writing original songs like "Stealin' Stealin'" and "On the Road Again" for his band, and introducing colleagues like Gus Cannon to his record company contacts -- Shade became the most important figure in a genre that remained popular through the end of the Great Depression.
Belated recognition
Will Shade enjoyed lifelong friendships and a 40-year marriage, but he outlived most of his friends and relations and was buried in an unmarked grave when he died in 1966. We have located his burial site, held a concert to recognize Shade's achievements, and raised money to purchase a gravestone. And as a finishing touch, we saw Will Shade and the Memphis Jug Band honored with a brass note on the Beale Street "walk of fame." You can read some of the coverage of these events or share a story of your own.
We're still seeking information about Jennie Mae Clayton, or descendants or heirs of Will Shade or other Memphis musicians, so please contact Arlo Leach if you have any info. And we hope you'll stop and pay your respects if you're ever in Memphis!