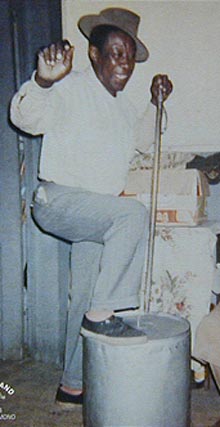 Will Shade Tribute
January 27, 2008 • Chicago, Illinois
May 3, 2008 • Memphis, Tennessee
Aug 1, 2009 • Memphis, Tennessee
Arlo Leach writes: Charlie Musselwhite saved these letters he received from Will Shade in the early 1960s, and granted permission to share them here. In my transcriptions, I corrected the spelling, but left the grammar as is to retain the feel of the original writing. Click the photos for a larger view.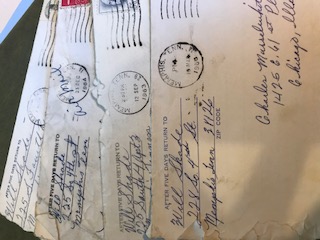 225 South 4th #3
Memphis Tennessee
Sept. 12, 1963
Dear Charles,
I am more than glad that you got plenty of Golden Harvest Sherry wine and I have none. I'm more than glad that you and your friend got there safe. Tell Bob1 that I said hello and his friends. I will be glad when Bob get a recording date. I heard that you was going to send for Furry Lewis, when are you going to send for me and Clarice, don't disappoint me about the date. Send me something to get me some Golden Harvest Sherry wine. Tell Bob to send me something to get along with until they get ready to record me let me know. I heard from Roger Brown. I close my letter but not closing my band and my mind. Jennie Mae said send her something for some milk,2 she has not been long coming out of the hospital. Let me know when you coming for I can have a whole jug of Golden Harvest wine. Clarice said hello, and that she miss you. She said that her name is Clarice and not Clara Jane. She said that to go and get a picture made and send her one.
Sincerely yours,
Will &
Clarice
P.S. And don't nothing about my writing. Clarice.3
1. Bob Koester, the owner of Jazz Record Mart in Chicago. Charlie was living in the store's basement at the time.
2. Charlie understood "milk" to mean "wine" in these letters.
3. Although Will could write himself, he dictated his letters to neighbors, who also knew Charlie from previous visits.
---
225 South 4th
Memphis Tennessee
Sept. 21 1963
Dear Charles,
I receive your letter on the 21st of Sept. I am more than glad to hear from you, and John Lee, and Pete. And more than glad to hear that good news, and hope you don't disappoint me, because I will be looking for you with all three eyes. Don't worry about Red Robey and Little Bit and all, so don't worry about Earl1 and write me and let me know when you are coming week after next week. I went to look for Memphis Minnie but I have not got no head or tail to where she live at. But I had to spend a little cab fare looking for her. After all I don't find her, that ran about three dollars which you know that I'm sick cannot get around much that is why I had to pay somebody to take me out there. And I am hoping in my next letter I will get some milk. If he had an electric guitar to bring it with him. Because you know that mine is busted. Be sure to tell John that I said to bring plenty of milk. Because we all is bottle babies down here. Tell him the stuff is here with the women folks. I am going to record Kat2, and I got a tape of blues that you will like.3 That's all for now. Jennie Mae talking now; you don't send me no milk fare this time. I will be very glad if you send me some this time.
Sincerely Yours,
Will & Jennie Mae
1. Milton "Red" Robey (fiddle), Laura "Little Bit" Dukes (ukulele) and Earl Bell (guitar) were part of Will's circle at the time. Robey had recorded with the Memphis Jug Band as far back as 1929 and Dukes as far back as 1934. Bell was part of several home recordings made in Will's apartment in the 1960s.
2. Kat Porter was another neighbor who sang with Will on some of the home recordings of this period, including two versions of Won't You Ride With Me Tonight.
3. The third page above was written by Will himself. It's unclear whether this is a list of songs on the tape he mentions, or a set list of songs he is offering to record. He had recorded "Haunted House" with Laura Dukes in 1961.
---
225 So. Fourth Apt. 4
Memphis, Tennessee
November 7, 1963
Dear Charles,
I receve your letter and more than glad to hear from you. I got the money for the milk, Jenny and I. It is a plenty of stage meat oil1 here waiting for you all you have to do is come and get it because she can't bring it up there you will have to come a get. If you have the "muckits"2 you come down here and you will be cured right away. I just about know all those boys name you send down to me but I don't know the address if they stay in Memphis. I sure will find them. I am hoping that you don't fail about coming down here Thanksgiving because I got everything set for you, just waiting for you all. "Clarice said hello." I be glad when you come down.
Yours Truly,
Will
&
Jenny Mae
P.S. Clarice said she is still waiting too and that she miss you very much.
1. Charlie says this "must be something Clarice mis-heard as Will was dictating to her, but it sounds like some sexual term."
2. Ditto.
---
Memphis Tenn
Dec 23, 1964
Dear Charles Musselwhite
Just a few lines to let you hear from me. I'm doing pretty fair, not much. When these few lines reach you they find you well as they left me sad. I lost Jennie Mae 22 of Dec. I would like for you send me some milk if you can, I need it. I am worried as you know. I am alone now, no-one but me in the world as I know of. I will close here and soon. With love -- Will Shade R. 225 So 4th St.1
P.S. Katherine said send her an Xmas present. Hello with love.
Merry Xmas
From all
1. Now a widower, Will has moved to a smaller apartment across the street.
---
228 So. 4th St.
Memphis, Tenn
Mar 18, 1966
Dear Charles,
How are you? Fine I hope and I hope that you got there OK. Charles, I heard that some boys were trying to rob you and I want to know is it true or not. And I want to know that you are fine. Hurry up and answer this letter because I want to know are you all right. Send me some wine because I sure do need it.
Sincerely Yours,
Son